Pruning or Trimming Purple Sand Cherry and growing Sand Cherry from Cuttings.
In this video you will see how I cut Purple Sand Cherry in the fall to make sure they grow nice and tight and don't get thin and spindly.  You will also learn how to take all of those clippings and use them to make hardwood cuttings of Purple Sand Cherry.
You can do the same thing with a lot of other woody plants like Forsythia, Weigela, Red and Yellow Twig Dogwood and Rose of Sharon.  You can also root grape cuttings like this as well, but grape cuttings only a few buds in a 12″ section of the cane so you have to make your cuttings about 12″ to 14″ long in most cases.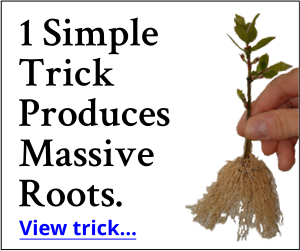 Instructions for building the Plant Propagation Box are here.
Watch the video and post any questions or comments below.   -Mike McGroarty

Get Paid for Growing Small Plants at Home! 
It's easy, it's fun and you can start small as you want. 
You'll be amazed at how eager people will be to buy the plants you grow.