Dwarf Alberta Spruce is an awesome little evergreen that stays small and only grows a few inches per year.  Yes, they can get five or six feet tall, but it takes a long time and with one annual pruning you can keep them to the size you want.
This is plant that I have been telling Our Members about for years because it is in great demand and always will be in great demand.  Dwarf Alberta Spruce is hardy in zones 2 through 8, which gives it a very wide appeal all across the U.S. and other countries as well.  For the most part it is hardy and tough as nails, but there is one pest that tends to attack it, and that is spider mites.  However spider mites like it hot and dry so if you simply blast the branches of your Dwarf Alberta once a month or so in hot weather you can probably keep the spider mites at bay, or at least controllable at bay.
The Dwarf Alberta Spruce Story.
How to Propagate, or Grow Dwarf Alberta Spruce from Cuttings.
In this article I am going to combine my "personal" Dwarf Alberta Spruce" story with information about propagating, caring for and selling Dwarf Alberta Spruce.
Many of the photos that you see on this page are compliments of one of Our Members and Friend Roger Higgins.  These are Dwarf Alberta Spruce cuttings that Roger is getting ready to root.
My "personal" Dwarf Alberta Spruce story is very instructive and it is the reason you are reading this article today.  Way back in 1989 I decided to plant a few plants in my backyard, things that I could grow for a while and later sell for more than I paid for them.  I was doing this as more of an investment than I was "starting a backyard nursery".
So the very first thing that I bought was 1,000 Rhododendron rooted cuttings for one dollar each.  Later that summer I ordered 1,000 Dwarf Alberta Spruce, also for one dollar each.  I planted all of these in my backyard in beds, 8″ on center.  You can see that here.  I chose Rhododendrons and Dwarf Alberta Spruce because they are both fairly slow growing and in my mind that meant that they would always be in demand.  I was right then and that's still true today.
In this photo Roger is showing us how he does not cut the cuttings to remove them from the parent plant but instead tears them from the parent plant, much the Same Way that I Do Arborvitae Cuttings.  That leaves a heel as he is indicating in this photo.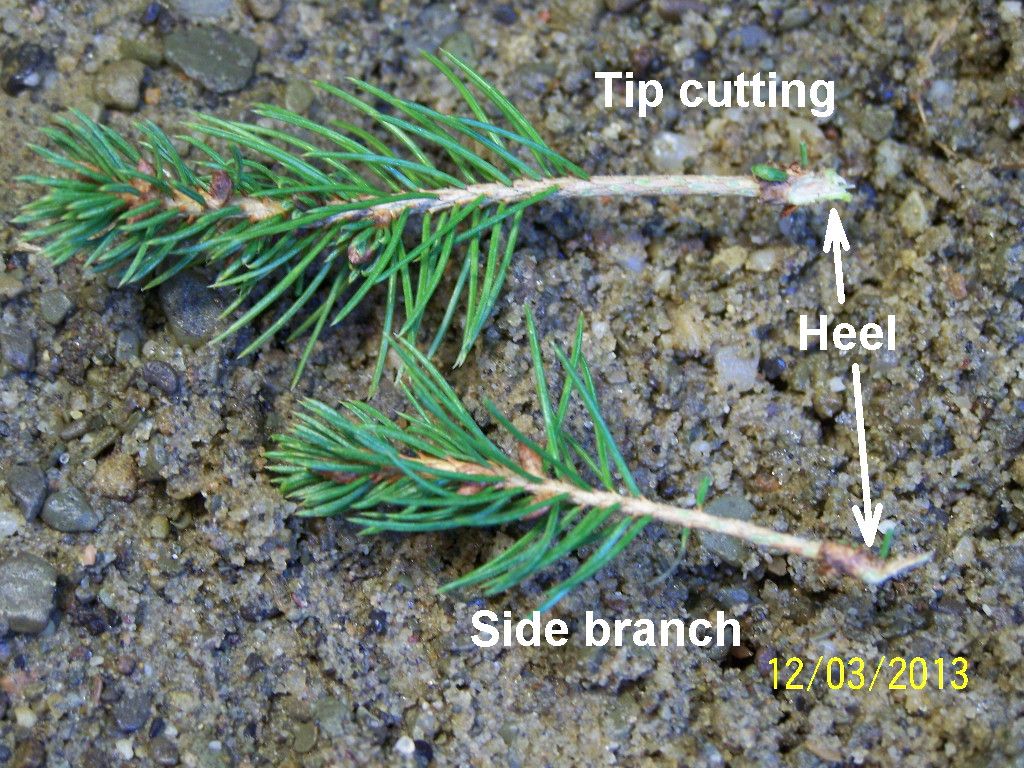 Leaving the heel on the cutting actually creates a larger surface of "wounded area" and just like human beings, when plants are wounded they try and heal themselves by building callous over the wound, then new roots.
Keep in mind as you study this process.  Way back in 1989 when I ordered Dwarf Alberta Spruce rooted cuttings from a wholesale grower I didn't bat an eye a buck a piece and I ordered 1,000 of them!  That's what I mean about the market for these plants.  Each little cutting was worth one dollar in 1989.  I'm assuming they charge $1.50 or more today, maybe $2.50.  I haven't checked lately.
Something Terrible Happened to My Rooted Cuttings!
My late mother-in-law was a wonderful, wonderful person.  Great mom, awesome grandmother to the kids.  But she was hardwired to be a bit of a negative thinker.  And when I decided to pretty much bury $2,000 in the backyard she thought for sure that I was crazy.  My father-in-law on the other hand, who is still with us, is very different, and has always been supportive and helpful.  He when he himself would never risk $2,000 on such a crazy idea that didn't stop him from coming over and helping me, Pam and the boys plant those 1,000 Dwarf Alberta trees in the backyard.
So as we were planting these little tiny rooted cuttings my mother-in-law was firing off the questions becoming more and more convinced that I was making a huge mistake.  Maybe even hoping it would go bad, because that's how people are.  You need to know that.  Not everybody is pulling for you.   It's human nature, many people are secretly hoping you do not succeed.
The rooted cuttings that I bought were just like the ones that Roger is showing here, except mine had roots.  Not enough roots, but they did have roots.  I kept them watered for the rest of the summer and come winter I figured they'd be fine until spring.
Mother Nature let me know who's really in charge.
Over the winter as the ground froze and thawed and froze again, that action pushed a bunch of my little tiny plants up out of the ground.  It's called heaving.  I didn't see it coming, didn't know to check for it, and by the time I noticed it was too late.  I lost 250 of the 1,000 plants that I bought.
250 Bucks Out the Window Right?
Oh boy, not only did I lose my money, but I knew that when my mother-in-law found . . . well, you know.  Sure enough she found out and she wanted to know how many I lost.  And that's when I had a huge revelation that I now teach to Our Members on a regular basis.  When she asked how many died I said to her;
"I don't know how many died.  I'm in the live plant business, I only count live plants."
And from that day on I never lose sleep over plants that don't make it.  I just trudge ahead focusing on the ones that do.  Yes, I lost 250 plants that I paid one dollar each for.  But if you do the arithmetic I still had 750 live plants and since my investment in those plants was still $1,000, that now meant that my investment in each of my 750 live plants was now $1.35 each.  Still a pretty good bargain.
Roger sticks his cuttings in dish pans that he buys at the dollar store.   He drills holes in the bottom for drainage, fills them with said and sticks the cuttings and then Places them in his Propagation Area Using the Same System I Use.  He does this with Dwarf Alberta Spruce in mid July or early August.  A few weeks later than most flowering shrubs.  They are slower to root than many other shrubs, but they are all rooted before winter.
Even if you don't have the automated system that Roger and I use, you can still root cuttings in the summer, This is How You Do It.
After I lost 250 of my 1,000 plants the rest thrived.  I kept them trimmed as they grew because if you don't trim Dwarf Alberta Spruce they tend to grow low and wide like a Hershey Kiss.  And nobody wants a short, fat Dwarf Alberta.  They want them tall and slender.  As with most other evergreens you have to watch to make sure they don't develop a "double leader".  There should only be a single leader growing out of the top of the plant, not two or three.  You have to select the strongest, straightest one and remove the others as soon as they appear.  That's really important!
Once rooted Roger's plants look healthy and vibrant don't they?
Once mine plants were about 12″ tall a local grower friend of mine that knew I was growing them asked me what I wanted for them.  He needed 300 of them and said he's bring his guys over and dig them bare root, take them back to the nursery and pot them up.  I told him $4.00 each.
He liked that price and wrote me a check for $1,200.
Are you keeping up with the arithmetic?
I paid $1,000 for the 750 plants that survived.  I just sold 300 of them for $1,200.  Even though I managed to kill 250 of my young plants right out of the gate I sold 300 of my 750 for $1,200!  I was now $200 to the good and I still had 450 plants.
I sold another 300 of my Dwarf Alberta Spruce to another grower for the same price, $4.00.  That's another $1,200!  I was now $1,400 to the good on deal that started out a bit shaky.
The remaining 150 plants that I had left I sold at my retail plant sales for prices that ranged from $12.00 for the smaller ones to $25.00 for the really nice ones.  At that point I lost track of my total profit but if I averaged just $12 for the ones that I sold retail that's another $1,800 added to the $1,400 that I had already earned.
That's a lot of money for some guy growing small plants in his backyard yard!  And of course I also had the 1,000 Rhododendron and I did manage to kill some of those as well, but by then I had added 500 Japanese Red Maples and the rest is history.  The Rest of My Story.
A few years ago I ran into a local grower who was looking for one gallon Dwarf Alberta Spruce and he could not find them anywhere.  He had called all over the country!  Knowing how large their business is and how they buy, I'm guessing he wanted at least 10,000 if not more.  And I talk about that in my One Gallon Plant Conspiracy Story.
I want to Thank Roger Higgins of Roger's Backyard Nursery in Cranesville, Pennsylvania for the use of his photos in this article.  Roger and his wife are great people and two of the most loved members we have.  Roger is always willing to help out a Fellow Member and his wife Venice is equally wonderful.  They have been to my nursery many times, they've been to Our Annual Backyard Growers Shindig too many times to count.  I'm happy to count them among my friends!
If you are near them Check out their Facebook Page. Opening Day is April 30th, 2016!
Questions or comments?  Post them below.