Preparing a new lawn for grass seed is a bit of work, but it's not that difficult to do successfully if you are armed with just a bit of basic information.
A few basics that you must get right…
The area has to be properly graded before you start.
It's best if you have a few lawn installation tools to make the job easier.
You use a good blend of grass seed.
You pay close attention to what cover you use and why.
Pam and I recently built a new house, you know, all one floor, no steps.
I tell people that we built a convalescent home.
Wide hallways, grab bars in the bathroom.
The lot that we chose to build on is quite small, just enough room for the house really.
And a little bit of lawn.
We needed something easy to care for, we have plenty to do at Mike's Plant Farm.
And the new place is only about 2 minutes from the nursery which is really nice.
We hired contractors to do most of the construction but when it came the lawn and the landscape I just wasn't going to pay that kind of money to do something I could do myself.
I have a tractor so I was able to do most of the final grading myself and with a 3 point hitch tiller on the back of the tractor I was able to loosen the hard packed soil around the house, level it, then we still needed to hand rake the entire area.
Topsoil?
I first started installing lawns back in 1974 and back in the day we never trucked in topsoil to make a lawn.
We quite simply worked with whatever soil was there. And it worked!
When you truck in a bunch of topsoil two things happen.
You take a lot of money out of your wallet and give it to somebody else.
You take soil that is riddled with more weed seed that you can imagine and move that to your house. How crazy is that?
And really good topsoil is pretty hard to come by these days.
But these landscapers today just have it in their head that you can't grow grass without topsoil.
I'm sorry, but I don' just don't subscribe to that theory.
I've installed lawns in some the most hard packed clay and rocky soil imaginable and I proud to say that I've produced some pretty darn nice lawns.
Many also believe that if you don't hydro-seed, your new lawn doesn't have a chance.
Nothing could be further from the truth and I Cover that in Detail Here.
Once you have the lawn area leveled or graded as needed so no water stands in the lawn area, you are ready to start preparing the soil for the planting of the grass seed.
In order to effectively plant grass seed you need to create at least a little bit of a seed bed.
Ideally proceed in this order;
Loosen the soil to a depth of at least 3 to 4 four inches.
Hand rake the entire lawn after you've loosen the soil.
Apply a seed starting lawn fertilizer.
Spread the grass seed over the raked area.
Broom over the seed to mix it with the soil.
Mulch over the seeded area with straw.
As I prepared our lawn for seeding I rototilled it to a depth or at least 4″ with the tiller on my tractor.
By loosening the soil that deep you accomplish a couple of things.
One, you allow the soil to absorb water when it rains or when you water, actually watering the seed into the lawn instead of the water just running off and taking the seed with it.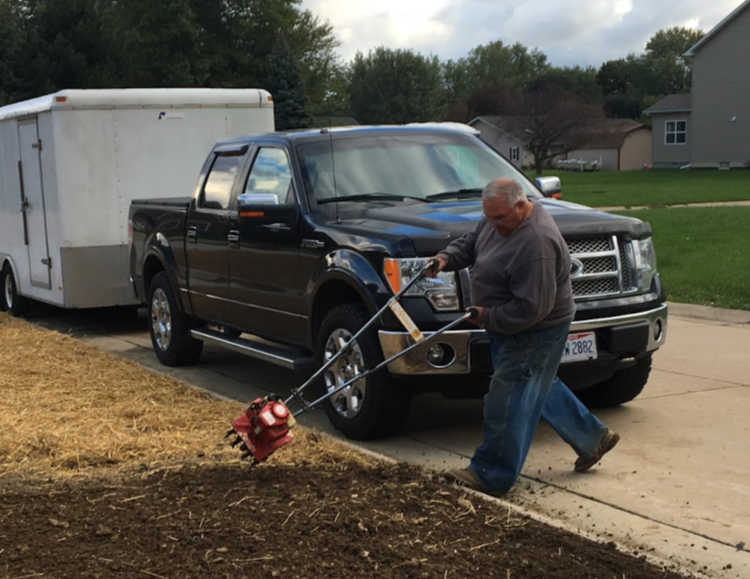 The second thing that you do by loosening the soil you make it much easier for the roots of the new grass plants to firmly anchor themselves in the soil to a reasonable depth.
When you are doing a lawn by hand like Pam and did at our house it's far better to tackle one area at a time and do all of the steps in that one area before moving on to another area.
Why? Because if you are doing this by hand without the help of three or four laborers, it's going to take some time and once you have an area ready for seed you want to get it seeded, broomed and mulched before it gets rained on.
We did pretty well but we only got a third of our lawn done before we left on a week-long vacation that had been scheduled for many months.
And of course, it rained on the lawn.
That was good for the area that we had seeded, but not so good for the areas not yet done.
Because the soil was a bit sticky I didn't want to get back on the lawn with my tractor and make ruts so I relied on my old faithful friend my Mantis Tiller!
I used the Mantis Tiller to loosen the soil and prepare a seed bed before raking the area level for seeding.
Please note!
Everything that you rake off of your lawn is not necessarily debris that needs to be disposed of.
In our case, I had a pretty big hole left where they put the water line in and the soil settled.
Everything that we raked up went into those low areas then got covered with soil.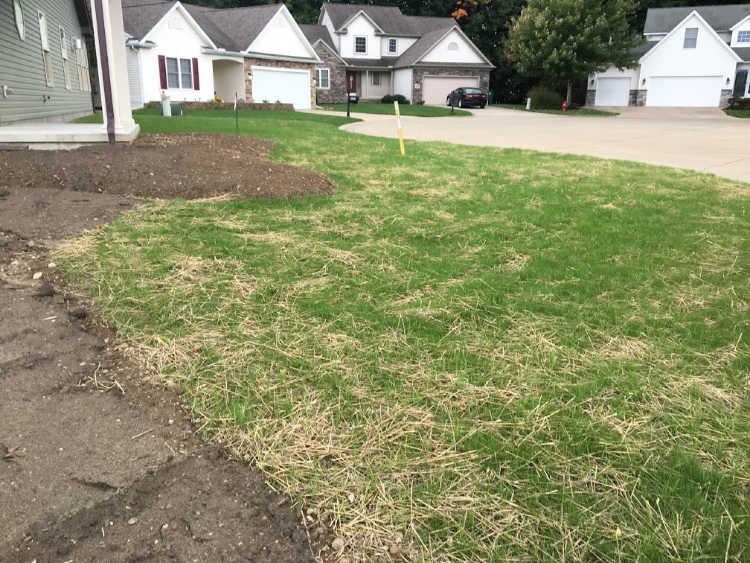 When we finished we only removed about 1/4 yard of debris from our lawn.
I've seen landscapers haul away tons and tons of soil and stuff when installing a lawn.
Once you prepare your seed bed and hand rake the area you can apply the grass seed starting fertilizer. Then start seeding.
Most grass seeds are applied at a rate of 5lbs per 1,000 square feet but look on the bag of seed or speak to your seed dealer for application rates.
Grass seed sizes can vary greatly thus the application rate can be less or more.
The best way to apply the grass seed is with a spreader so your get good even coverage, but I've probably spread hundreds of pounds of grass seed with my hand.
Once I spread the grass seed on the lawn I take a push broom and drag it backwards over the lawn area, applying some pressure to the broom.
I want the broom to drag some seed and soil as I do that.
This process actually helps to push the grass seed into the soil just enough so it's not just laying on top of the soil and it buries some of the seed so it's not just laying on top of the soil.
Once the seed is spread and broomed it's time to mulch the seeded area.
My favorite mulch for planting grass seed is straw and I'll tell you why.
When you spread mulch over the lawn the straw lands in a criss-cross pattern and doesn't lay flat on the soil.
These suspended pieces of straw actually shade the grass seed!
Grass seeds are tiny so a piece of straw suspended overhead actually provides a considerable amount of shade as the sun moves over the lawn area.
When you mulch with peat moss or hydro mulch many of the seeds are exposed to the elements.
Straw actually provides great shade for those little tiny grass seeds and that shade can mean the difference between life and death for those new grass plants.
Keep in mind, it's easy to get grass seed to germinate.
The challenge is keeping those little tiny plants alive until they can fatten up and send some roots down into the soil.
Once the seed germinates it is spent. If you lose the grass plants post germination your lawn is toast.
That's why it's so important to use a mulch that not only holds some moisture, but also provides shade for the grass seeds and tiny grass plants.
That's also why it's so important to stay on top of the watering once you initiate germination. Do Not Allow Your Lawn to Dry Out.
Questions, comments or mean things to say? Post them below and by any and all means, stay inspired.