The damage you see in the above photo is called Vertcillium Wilt. Verticillium wilt attacks all kinds of plants, usually with devastating results. I've had it attack at least three if not four of my pretty mature Japanese maples.
Verticillium Wilt is a soil borne, fungal type of disease that affects the plants ability to move water to certain parts of a plant, causing that section of the plant to fail, the die. There is no chemical control, prevention or cure. It's just something that happens, but . . . but . . . but . . . it is not the end of your tree!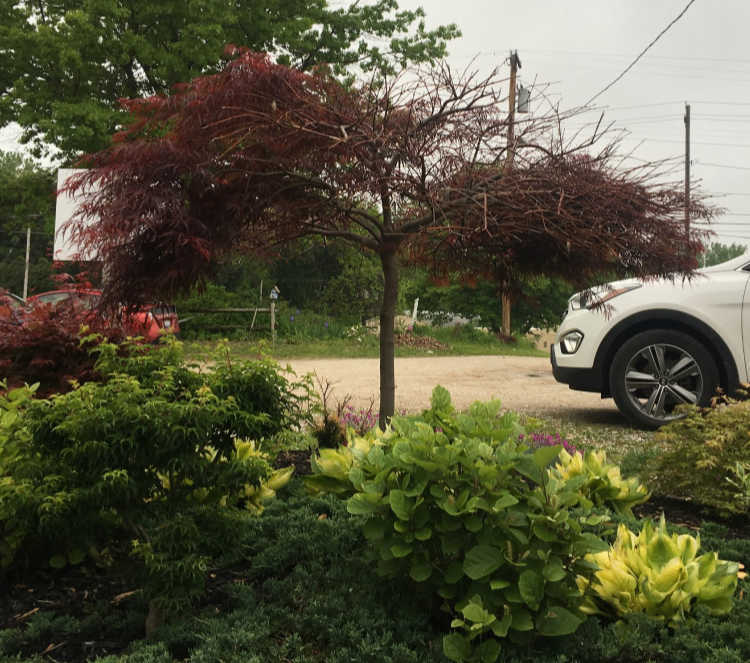 I've had this happen to at least four Lace leaf weeping Japanese maples in my landscape and it's happened over a period of time. I've read all kinds of explanations of what exactly is going on in the soil to cause this, but quite honestly, in all four cases my soil conditions were different, never soggy, just different soils. Didn't matter, it still occurred.
You can take my opinion for what it's worth and my only qualifications to offer such an opinion is to say that I've not studied a great deal about plants but I've spent the better part of my life, starting at the age of sixteen, I'm 63 today, crawling around in the dirt, working with plants on a daily basis. You can not stare at that much dirt and that many plants and learn valuable things through shear observation. Often times, those observations are more accurate that what you find written in text books.
My opinion about Verticillium Wilt on Japanese maples?
There is nothing you can do to prevent it and there really is no cure for it except to prune it out of your plant.
There are certain ground rules for planting and caring for Japanese maples and I'll cover those here. If you follow these recommendations I think you can be assured that you have done everything you can to give your Japanese maples a good home. But Verticillium Wilt can still occur and it is certainly going to be heart breaking, but in most cases the trees can and will recover nicely.
Things to know about planting Japanese maples.
Japanese maples are an under-story tree and when young they really don't care for or often don't do well in full sun. Part shade, part sun is where they are the happiest. Too much shade and they will turn green and lose their beautiful colors.
Japanese maples hate wet feet! Do not plant them in a wet area, or an area where a downspout drains. They love soil that is mostly dry, just moist enough to give them the moisture they need. Never soggy, simply cool and moist to the touch.
Like all plants, Japanese maples will fail quickly if you plant them too deep. It will kill them! Whether your tree is balled in burlap or in a container there is a root crown right at the soil level. When planted that root crown should actually be about 1.5 inches above grade if not higher. Then mound the soil up and over the root ball.
Mulch the tree with about 2″ of bark mulch too keep the soil around the roots cool and moist.
Do not pile mulch up around the stem of the tree. It will rot the bark and kill the tree.
Stake the tree for at least a year so the roots can get established without the wind rocking the tree back and forth constantly.
If planting your tree in clay soil it's best to plant it even a little higher than described here and back fill around the root ball with the clay that you removed from the hole.
After reading #7 you now know that I am bona fide crazy and full of you know what. What kind of advice is that?!!! It's good advice, that's what it is! If you dig a hole bigger than the root ball in clay soil, then back fill around that root ball with some kind of loose, porous material all you are doing is allowing excessive water to enter your planting hole with no way for that water to escape. It's like filling the bathtub with water and submerging your plant in that water.
Here's a little known fact that most people don't understand. Plants, just like people, will drown when submerged in water for an extended period of time. The roots of a plant need to breath. The roots have to be able to transfer oxygen from the air, through the soil, to the roots. If they can't because the roots are surrounded by standing water that plant is going to die.
Fertilizer is worse than heroin or fentanyl! The plants in your landscape do not need fertilizer. I never fertilize the plants in my landscape at home, or in the landscape plantings around my nursery. They just don't need it and too much can and will kill them. Especially Japanese maples! They don't even know what to do with fertilizer!
Don't believe me? Look here! Those plants have never been fertilized!
Water your Japanese maple as needed. When first planted it will need some water two or three times a week. Not a million gallons of water! Stick your finger in the soil. If it's dry, water. If it's cool and moist or soggy don't water. If you get into a hot and dry situation water your Japanese maple and other plants in your landscape thoroughly about every 9 days.
Back to Verticillium Wilt on Japanese maples!
If your Japanese maple suddenly has a large branch, or a pretty big section of the tree that appears to suddenly just up and die. More than likely it's Verticillium Wilt. It usually starts with some discolored leaves, then the leaves turn brown and crispy and often will not drop from the tree right away. They just curl up and turn brown and crispy and often stay on the branch. Once your tree gets to this point it's probably too late to save that particular section of the tree or that branch. Before you remove any branches do a scratch test to make sure that they are dead.
This is how you test to see if a plant, or a branch on a plant has died. Just scratch the bark of your plants with your finger nail. If the tissue below the bark is green and firm your plants are fine. If the tissue is brown and mushy that part of the plant is dead. Once that tissue below the bark becomes brown and mushy there is no saving that part of your plant.
As I mentioned earlier in this article, I've experienced Verticillium Wilt on several of the Japanese maples in my landscape and in each case I was able to prune away the dead part of the plant and eventually have the trees make a really nice recovery. After pruning you are obviously left with a big gaping hole in your plant, but you'd be surprised at how fast it will completely fill in. I'm not talking days, weeks or months. It is going to take at least two or three years to fill in nicely. But it's always worth the wait to save a beautiful Japanese maple.
Japanese maples have really hard wood so you will need really sharp shears of maybe even a pruning saw to remove the dead branches.
Sterilize your tools as you prune!
Before you start pruning clean up the blades of your pruning tools with alcohol wipes or something else suitable. Then clean the blades after each cut.
Do I do that? No. I'm a maniac! I've never done that. But I recommend that you do as I say, not as I do. I take chances.
Questions, comments or mean things to say? Post them below and I will respond.