Why would you need an underground root cellar? An underground root cellar can provide you a place to store plants, or plant bulbs, anything that you want to protect from freezing. I build mine to store rare Japanese maples that I'd get shipped in during the winter months but couldn't plant out until spring.
One of the perks of Our Members Area is having the ability to buy things like really rare, really beautiful Japanese maple varieties for prices that might range from $8 or $10 each up to about $20 each. And if you've priced Japanese maples in a garden center, you know those are crazy low prices!
As you can see in some of the photos and the video on this page I put hundreds of Japanese maples, redbud trees and dogwood trees in my underground root cellar.
My underground root cellar was 42″ wide, 8′ long and about 24 to 30″ deep. I'm pretty sure the sides were only 24″ but the lids were about 5″ thick. In my root cellar my plants never froze and I'm in northern Ohio! It gets cold here!
The rest of this article will explain why this works so well.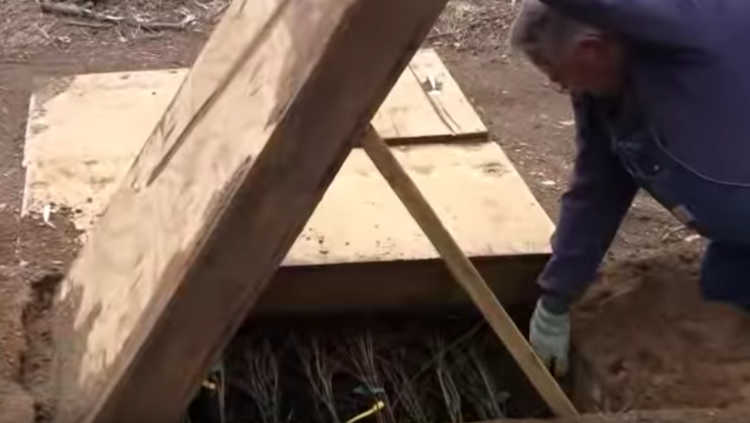 You probably don't have to be 42″ but that's not a bad thing.  My cover was two by four frames with 3/4″ treated plywood on both sides. My cover was actually three pieces.  Heavy, but well insulated, no insulation needed, the air space is plenty.  I really need to do a blog post on water meters and ground heat because it is very educational.
Around here most of our water meters are in the ground, vaults about 24″ wide and 36″ deep. The actual water meters are on risers so the top of the meter might be as close as 12″ to the top of the vault. They never freeze. The only time they freeze is if they are located in a driveway, sidewalk, or the vault is not installed deep enough.
Important points.
1. The vaults have a cast iron lid that can translocate cold if the vault is installed so the lid sticks up above the grass in the lawn.
2. If the vault is installed properly the lid is about one to two inches below grade, usually one inch is plenty.
3. The ground heat from the vault will warm that cast iron lid enough to melt snow that lays on top of the cast iron lid. Let that sink in. Let's say the air temp is 20 degrees F. outside, the ground heat in the vault can make that cast iron lid warm enough to melt snow.
4. Since snow is a good insulator, it actually helps to keep that cast iron lid warm enough to melt snow with help from the ground heat inside the vault. Snow cover actually makes it warmer in the vault.
5. This is so evident that as a meter reader you can walk down a snow covered sidewalk and you see a dimple in the snow covered tree lawn and sure enough, that's exactly where the water meter is. It never fails. The heat from inside the vault, through a cast iron steel lid will melt the snow enough to make the snow sink over the vault lid and it makes the location of the water meter obvious as you walk along.
6. What messes that up? What would keep the snow from melting on top of that cast iron vault lid? Leaves. Just a very thin layer of leaves, probably about 1/8″ is enough to insulate the vault lid and the snow does not melt making the vault lid invisible in that snow covered tree lawn.
7. 1/8 of an inch of leaves act as an insulator. So a 5″ thick cover made of wood, not steel is super insulator!
8. Here's another thought. Why do leaves collect on the vault lid? Because it's recessed just enough that once the leaves settle on the vault lid the wind blows over top of them and cannot pick them up and blow them away. Think about that.
9. That's why in the event of a tornado a ditch is an option to stay out of the wind.
So I am suggesting at least 30″ deep, at least 8′ long and about 44″ wide. Think bigger.
Since those wooden covers can be quite heavy consider setting up a pulley system to lift the lid when you need to.
Another, must simpler thing that I've done to store bare root trees until spring is to build a frame on top of the ground and simple heel in the plants with a potting mix. I don't consider this the ideal method but it's work well for me when I've done it.