This is one hot item that I never see available in Our Members Area, and usually just about every plant imaginable is available in our members are at deep wholesale prices. This is an item that would sell like crazy!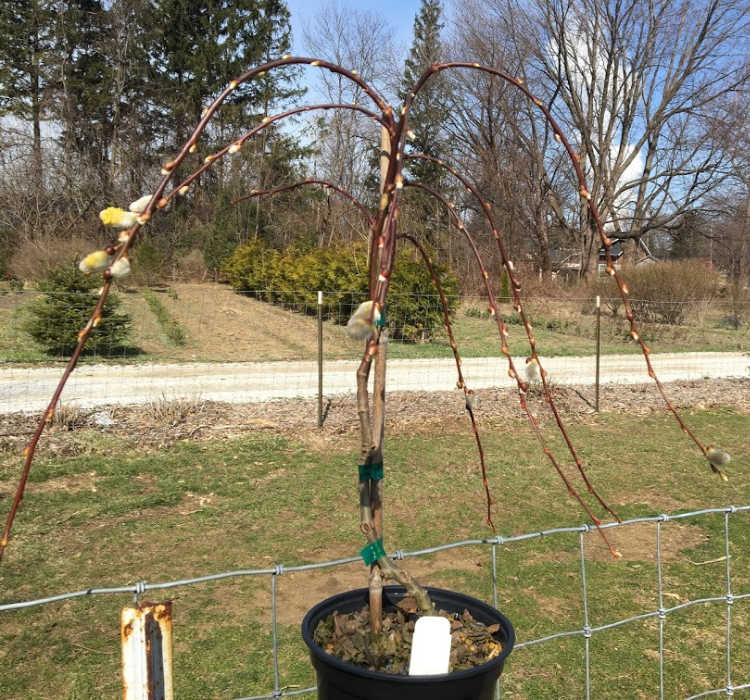 I picked up a Weeping Pussy Willow from a local wholesale growers a couple of years ago. Typically these trees are grafted onto another type of willow with a strong straight stem. But that takes time. First you have to grow out the tree that will be used as the root stock, then you have to bud or graft the weeping part on to that.
So I wondered how well they would do if I tried to grow them on their own roots. Suprisingly they were pretty easy to root as softwood cuttings, grew fast, but had to be staked. They have to be staked because the weeping part of this plant does not know how to grow upright. If they are not staked they would just lay on the ground and grow like a ground cover.
This is really more of a novelty item but they are fun to grow and it's fun to train them in different ways.
Will they root as Hardwood Cuttings? I really don't know. Most willows, especially Pussy Willows, are quite easy to grow as hardwood cuttings. But I don't remember ever trying them that way. But I'd say it's worth a try.
Weeping Pussy Willow loves full sun and being a willow should do fine in damp but not soggy area. Ironically, the one I had I planted on top of a bed that was pure sand and gravel and it did fine.
They do well in zones 4 through 8.
To See More Photos that I Posted at http://freeplants.com, click here.
Questions, comments, mean things to say? Post them below and I will respond.