I've had this beautiful Laceleaf Weeping Japanese Maple in my landscape for years. The variety is 'Waterfall'. But eventually it out grew the bed that it was in. It was encroaching the sidewalk on two sides. Pruning it to keep it from blocking the walkway would have ruined the shape of the tree.
Then I had a bed with huge stump in it that could not be ground because underground power lines ran directly under the stump. They also ran very close to this tree as well which made moving it a bit tricky.
This is truly a beautiful tree so moving it to a bigger bed was the best option.
Isn't the fall color amazing?
Now . . . digging a tree like this is no easy task.   Japanese maple truly have hard wood and that goes for the roots as well as the branches of the tree.  The roots are very hard to cut and you need a really good digging spade that is razor sharp (This is the nursery spade I recommend <– Amazon affiliate link).  And you also need a great deal of stamina.  Something I'm a little short on at my age so I hired a landscaping crew to move this tree as well as two other similar, but smaller trees for me.
It's frustrating not being able to do the things that I did with ease a few years ago, but it is what it is. Duston and I moved a tree very similar to this one a couple of years ago and it was no easy task. I knew better than tackle this project since it actually involved digging a total of four trees, two really big hydrangeas and moving a great deal of topsoil.
Because of the power, phone and cable lines that run very near this tree the root ball size is a bit smaller than it could be, but I'm not concerned, I'm sure the tree will be fine. The standard is 11″ of root ball diameter for every one inch of tree caliper. Tree Caliper is the diameter of the stem, measured six inches from the soil level.
Really, really important!!!
It's important to point out that you can only do this when the tree is completely dormant. I waited weeks for a good hard freeze before this job could be done. We didn't get that hard freeze until November 21st this year. We did this job on the 24th of November. Or should I say Fransciso and his crew did this job.
There's a lot going on, things to point out in the above photo.
The guy on the right with the spade is Francisco. I love that fact that Francisco is on the job, working right along side his crew. He reminds me of a younger version of myself. I've known Francisco for along time. When I first met him he was working at a nursery loading my truck back in my landscaping days. Today he has a very successful landscaping contracting business.
Notice the red and orange lines painted on the ground. Anytime you are digging anywhere that there might be underground utilities you need to call the "Call Before You Dig" number in your area and have them come out and locate and mark the utilities for you.
In this photo you can see Two Jackson Wheelbarrows. If you know anything about me at all, you know that I insist on using the best tools on the market and a Jackson Wheelbarrow is one of the best you can get. In my Wheelbarrow Tips and Tricks article and video I tell you why.
The root ball is taking shape. Notice how the guys dug around the tree and now they are working their digging spades under the root ball. They are not beating up the root ball, they are not rocking the tree back and forth. Up to this point the tree has not been touched, not moved in slightest way. They are literally "carving" a root ball around the soil and roots that they intend to save. This truly is an art.
Digging a root ball like this is an art. It's not that difficult, anybody can do it, but most lack the one tool that you need to do so. A really good digging spade. A good digging spade sells for $89 to $130 (this is the nursery spade I recommend <– Amazon affiliate link). If you paid less, you don't have a true digging spade.
Unfortunately I had to run out for a bit and didn't get photos of Fransisco and crew moving this tree once it was dug. So I am going to stick in a video that Duston and I did a couple of years ago and show you how to handle balled trees.
This video is all about digging and moving a live Christmas tree. Lots of good info in this movie.
This photo does not do this landscape planting justice but I promise to add better photos once these plants leaf out in the spring. This bed had a huge problem. There is a giant tree stump in this bed that could not be ground because of the power lines that run underneath it. So I had Francisco and his guys transplant into this bed three different Laceleaf Weeping Japanese maples, two really big Endless Summer Hydrangeas and a number of assorted Coral Bells.
The tree stump is actually front of the biggest Japanese maple and slightly covered with soil. And I do mean slightly because it is actually pretty high.
The Laceleaf Japanese Maples are all different. The bigger one in the center is the 'Waterfall' that you see at the top of this page, the smaller one to the right is a red variety, not sure I have the tag for it but it's very much like Crimson Queen, might be Crimson Queen but I don't remember. I had about 20 in one bed and some of the tags blew off. Not a good thing Mike!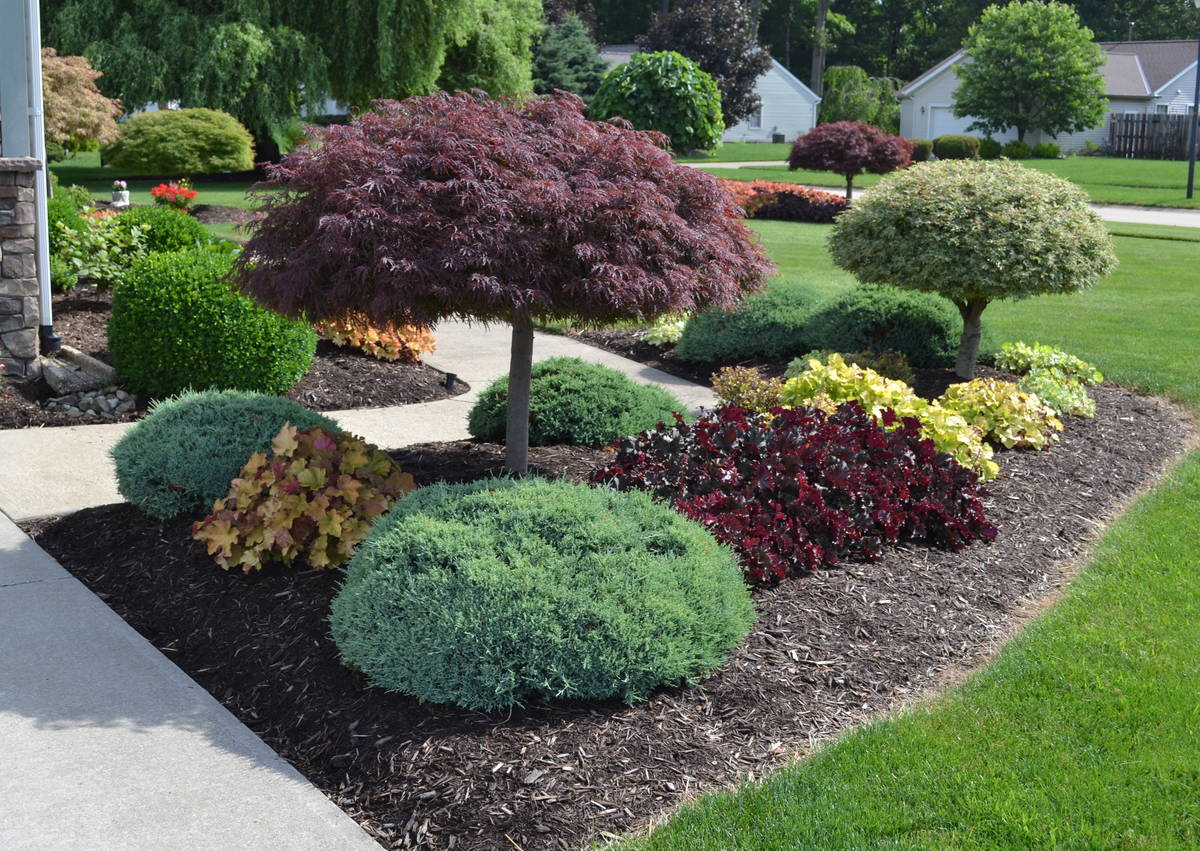 The red one will look like this one. Or this one that actually has Coral Bells planted around it.
The third one, the one on the right is a variegated variety called Goshiki Shidare. This is what the Goshiki Shadaire looks like.
I can't wait until spring! I'm excited as a kid in a candy store to see all three of these beautiful Japanese maples in full leaf in this new bed that has been a big pain in the butt and pretty much an eye sore for way too long. The bed is near the sidewalk and we get a lot of people walking in our neighborhood so I'm excited to show this planting off.
And I want to give a big "Thank You" to my good friend Francisco for helping me get this project done.
Francisco is a great guy. He has done a great deal of work in my neighborhood and he does work all over Lake County, Ohio. If you live in the area and need a good landscaper, call Francisco!