I, Mike McGroarty, am committed to turning you into a successful Backyard Grower.  This post is all about you and your success.  There truly are handful to things that you need to get started and be successful as soon as possible.
One of those tools is education.  I work really hard to bring you as much information that I possibly can.  Much of what I offer is free of charge, but there are a couple of educational tools that we have to charge for.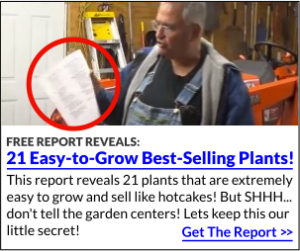 Easy Plant Propagation
My Book, "Easy Plant Propagation" is a wealth of information about plant propagation and it contains a great deal of good information about how to care for the small plants that you've rooted as well as pruning practices.  Small plants have to be pruned.  Plus there's a month by month schedule in the back of the book that tells you exactly what you should be doing each month of the year.  It's only $19.95, Free Shipping.
My Backyard Growing System
The "Backyard Growing System" was really created to document my process for selling plants with Facebook ads. In the Spring of 2016 I decided to try advertising my plant sales using nothing but Facebook ads… just to see what the response was like. The very first weekend I test it, I got a 53 to 1 return on my ad spend. Since then, I've never used anything else to advertise my plant sales. The Backyard Growing System documents the entire process of setting up your very first Facebook ad and it also comes with a few PDF guides you can download too. It's only $57.00… which is a crazy low price for the value. Learn more about it here.
The Backyard Growers University
We also have "The Backyard Growers University".  This is a compilation, a complete library of all the valuable information, videos etc. that I've created over the years along with things that Duston and I have created together.  In the university you will find videos shot in 1994 from my very first backyard nursery and you can watch how that little tiny 1/20 of an acre nursery evolved into what we do today.  This is completely digital, you can absorb it all via computer or iPad.  We are giving this information away for only $97.00  Learn more about that here.
The Backyard Growers Business Center
I could go on and on about the Business Center for days if you let me.  This is a private, members only area, where top shelf information is exchanged daily, really hourly, and it's all archived.  You can absorb years worth of information.  You can get help almost instantly not only from me, but from the other members who are committed to making you successful.
It's an amazing place and to be perfectly honest with you, I get emotional when I talk about it.  In a million years I couldn't have dreamed that somebody I would create such a place where members from around the world share information, help each other, share heart aches, because yes, life throws us some heart aches and these people are so much like family to one another that when one person is in pain the others feel it as well.
I have seen these people drive across the country to help another member in need.  The things that I've seen them do for one another is what makes me emotional.  I am extremely proud to be a member of that group.
The Business Center is the most expensive product that we sell because without a doubt, it's the most valuable.  We have members that have sold well over $100,000 worth of plant in our buy/sell area.  Other members sell a few hundred dollars worth each and every time they offer something for sale.
Duston and I don't think you should be buying a "Pig in a Poke" as the old saying goes, so we allow you to test drive The Business Center for 30 Days for a mere $7.00.  We want you to experience it.  We want you to see the value.  It's not for everybody, we know that, but you should at least do the test drive.  More about that here.
The Automated Plant Propagation System.
This is the heart beat of a backyard growing operation.  It's like having a full time nanny on duty to watch over your cuttings 24 hours a day as they root.  This is the system that every one of our successful backyard growers uses to root their cuttings.  Other methods work, but this is the one that works exponentially better.  Seriously.  That means that the number of cuttings you can do in a single season truly is an exponential number compared to other methods. Read more about that here.
I Bought  a New Refrigerator.
What!!!!!!!!!!!!!  What does that have to do with this?
Somebody said to me; "I'd like to have your automated plant propagation system but it's sooooooo expensive."
It's $297 for the basic components, that's what we sell you.  You'll still need a handful of fittings and some PVC pipe from the hardware store.
And I thought about what she said, and I thought to myself; "Yes, $297 is a chunk of money, especially for somebody on a fixed income.  But Pam and I just bought a new refrigerator and yes, it does have a lot of bells and whistles, but that stupid thing cost me $2,300 and the guy at the store said; "It will last you about 10 years."  Are you kidding me?  $2,300 and it's only going to last ten years????????
True or not I have no idea.  But here's my point.  Look around your house.  Look at the things you've purchased over the years.  How much did each of them cost?  How much money have they made you?
I already told you to go to the Buy/Sell Area of The Business Center and do your own research.  Look at the ads.
When was the ad posted?
How many orders did it the seller get?
It's all there.  Dates, times, and you can easily calculate dollar amounts.
Do the math.  People are selling thousands of dollars worth of plants just in the members area.
We never leave an ad up for more than 7 days.  As soon as they hit 7 days we remove them.  We new, fresh ads there on a daily basis.
If you do what I just suggested, you'll be amazed and dumbfounded.  One ad in that buy/sell area can easily pay for the automated propagation system and a few ads can pay for every single thing on this page.
Learn more about the Automated Plant Propagation System here.
The Advanced Training Manuals
This package consists of three additional training manuals that I think every aspiring backyard grower should have.  Growing plants is easy, you'll get that down in no time flat.  But then you have to take it to the next level and sell those plants.  One of the reasons that I am successful at what I do today is because I became an avid student of marketing years ago.  Before I started studying marketing?  My Life and My Business were a Train Wreck and I tell that Story Here.
In the Advance Training Manual Package you get . . .
(These are physical products shipped to your door, not digital)
My book, "Small Plants, Big Profits from Home"
This is like the backyard growers bible, it's all in there.  It might not be as organized as a professional publisher would have done it but that's because this is written from the heart.  It's true nuts and bolts about how to make all of this work.  Let's just say it's written Mike McGroarty style.
My book, "Can  Any Small Business Make You Rich".
This book is a bit of a secret.  This really is first time that I've ever mentioned it here.  I've kept it a secret because it was supposed to be, and should have been a $300 home study course.  Then at the last minute my ego got in the way and I decided to publish it as a book.
Trust me, it contains some of the best marketing information ever published anywhere.  My accounts, who happen to be very, very successful in a number of different businesses, think I walk on water because of this book.  Just two days ago Bob told me that he keeps a copy right on his desk and every time he is working on any kind of a promotional item he reaches for my book.  That blew me away because these two brothers are exceptional entrepreneurs. Click here to order a copy-only $24.99 with free shipping.
The Advance Customer, Client and Patient Attraction Manual
This manual is really a follow up to the small business book.  This manual goes in-depth into marketing and much of the psychology that takes place when a person is about to make a buying decision.  Duston's wife, Lorelei proof read and did some editing for me on this manual and she was like;  "Wow!  I learned a lot.  Things that I never would have thought of.  It's good stuff folks, really good stuff.
Clearly, the Advance Training Manual Package is not for everybody.  I know that.  But for those that truly want to change their lives, it only takes one good idea to pay for every single thing on this page many times over.
I've included this photo of me hugging Finnegan because this is pretty much a daily ritual for me and both donkeys.  I make it a point to spend some time with them and reflect on the amazing journey that my life has been and how I ended up here, on this Wonder Piece of Property that is My Paradise with thousands of plants and two awesome donkeys
And of course where would I be without The Support of My Awesome Wife and that little yellow dog?
Back in 1983 my life wasn't very much fun and you know that if you've Read My Story.  But one day in August I was driving to a landscape job that I couldn't wait to finish, I was losing money on the job, money I didn't have to lose, I was broke, everything seemed to be crashing in on me and driving down road in my old rickety dump truck I got an idea.
At that time Duston was 8 months old, and even at that age he played a part in this life changing event for me.
That one single idea changed my life forever and it's the single reason that you are reading this today.  As the saying goes, "Little Hinges Swing Big Doors" and that's what happened to me that day.  These Advanced Training Manuals include the one, little tiny, idea that changed my life and in the book and the manuals I take that idea apart, piece by piece and tell you why it was so powerful.
The Advanced Training Manuals are $147.00 – Click Here to Order Now

Everything on the Page Offer
I have to make a "Everything on this Page Offer" because as you will learn in the advance manuals, 20% of your customers want more and are willing to pay more.  For those that are willing to do the math and are in a position to buy it all at once, this is our "Everything on the Page Offer". Here's what you get:
Easy Plant Propagation Soft Cover Book (a $19.95 value)
The Backyard Grower's University Membership (Lifetime Access – a $97.00 value)
The Backyard Grower's Business Center Membership (Lifetime Access – a $497.00 value)
The Automated Plant Propagation System (a $297.00 value)
The Advanced Training Manuals including "Small Plants, Big Profits from Home", "Can Any Small Business Make You Rich?" and "The Advanced Customer, Client & Patient Attraction Manual" – all hard copies shipped to your doorstep (a $147.00 value)
That's a $1,057.95 value… all for just one payment of $897.00. Save $150 now and click here to order this discounted package before I change my mind and take it down.
Wishing you all of the success in the world!
-Mike McGroarty
Save