Giving Yourself Permission to Fail
I know, this is a crazy topic for a gardening website, but this website is really about people and plants and their love of plants. And the one thing that I hear from people all of the time is; "Mike, I should have done this sooner!"
This guy, he walks around the edge of the swimming pool, every once in a while sticking his toe in the water, then he starts bothering the others who are enjoying the pool by asking; "Is it cold? Is it really deep? Does the chlorine burn your eyes?"
He's driving them crazy, they are trying to have a good time in the pool and he's being a pest.
Here's the thing, way too many people are so afraid of failing at something that they never get started.  They spend their entire life waiting for the ideal time or waiting for this or that.  But if you look around, look at all of the successful people you know, how did they get successful?  They took chances.  They took their fear of failing at something and pushed it way to the back of their minds and they trudged ahead.
The universe loves and rewards boldness.
I look at people that I know and they spend their entire life denying themselves things that they want, things that they deserve, but they are hard-wired to deny themselves.  Why do they do that???
I've spent my entire life failing at things.
My first really big failure was Financially Catastrophic. Family members told me to quit, to give up, quit trying, there's no use. People like us don't have a chance. I just couldn't quit. I'd already paid a bigger price than most people are willing to risk so I trudged ahead and it paid off.
My inability to quit trying changed lives.  There are a lot of people who thank me for doing what I do because growing plants gives them purpose.  It gives them a feeling of self-worth.
So here's my message to you. Whatever it is that you secretly want to do. Just do it! Take the plunge! Change your life!
Interested in Growing and Selling Small Plants? Allow me to help you.

My Story, how I got here . . .
Back in 1985, I took a job reading electric meters.  It was a dull, low-paying, dead-end job.  But I had a family to feed and I needed the job.  At night and on weekends I was doing re-landscaping jobs.  Three a week!  I was working like a mule!
But deep down inside I had desires and ambitions. I started studying on my breaks at work and found something that really interested me. This was years before the Internet or cell phones.
One day I get this letter in the mail selling a subscription to a newsletter. Fifty Bucks for a one year subscription! That's crazy! But what this guy wrote was compelling and interesting. So I went the library and used the pay phone in the lobby to give the guy a call.
Not only did I subscribe to his newsletter for $50 but I also bought 20 years worth of his back issues. For $700 dollars!!!!! How crazy was that? It was the dead of winter and I was broke! And I just put $750 on a credit card! I knew that Pam was going to kill me. Didn't care, I wanted a better life for all of us. I knew that I would have to do a lot of wheelbarrow pushing to pay off that credit card. Didn't matter, I wanted that information.
Let that sink in. I was willing to risk a great deal just to get information from a person that I had never met.
But that wasn't the end of my craziness.
A few years later I heard about this thing call "The Internet". I really had no idea what that was, nobody that I knew had ever mentioned it, but I read about it in those newsletters. The guy said that you had to have a computer to get there.
Great. I didn't know how to use a computer. I was almost 40 had never even touched a computer.
So I went out and bought one. Pam just rolled her eyes, didn't even ask how I expected to pay off that $2,500 charge. She figured it was my problem I guess. I was afraid of that stupid computer! Afraid to touch it! Late at night I used to sit in the dark living room and stare at that computer thinking to myself; "There has to be something I can use that thing for."
In 1994 after I sorta figured the thing out I started writing a book. A gardening book. That's all I knew. I finished the book that winter but I was afraid to go any further with it. I needed $4,000 to get it published. They told me I had to pre pay for 3,000 copies! So I didn't do anything with it. It just sat there, stored on my computer. Then about a year later, still reading that newsletter I subscribed to, I just knew that I had to publish the book.
Another $4,000 on the credit card! A few weeks later a semi truck pulled up in front of the house and the driver and I unloaded 3,000 books into our garage. Now what? I had a garage full of books and a "not so happy wife". I needed to sell those books.
Long story short I decided to build a website. Only problem was, I had no idea how to do that and back in 1998 there was nobody I could hire or ask. I bought software, Microsoft Frontpage, and two books on how to use the program. It was the biggest struggle of my life, but that winter I built my website and it went live News Years Day 1999.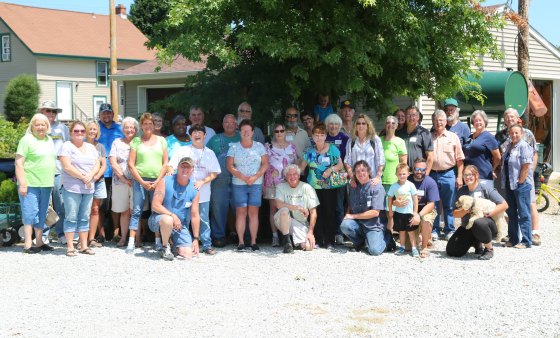 It was the most God awful, ugly website you have ever seen!
I know that because the handful of people that I got to visit the website told me how bad it was and they did so in very unfriendly terms. In fact, they were complete jerks about it! They told me that it was impossible to build an eCommerce website with software like Frontpage.
Idiots! They were wrong!
And here we are all these years later. Because I took chances, risked some money, risked a great deal of humiliation.
The people you know and love want you to fail.
There is no shortage of people willing to tell you what you can't do, what won't work. Why do they do that? Because they want to keep you at their level. It's too painful for them to see you succeed.
My advice to you?
Pursue your dreams with unabated enthusiasm! Life is short, the things that are holding you back flat out don't matter! Find what you love and do it with complete commitment! Invest in yourself, invest in your dreams.
If your dream is to grow and sell plants, Test Drive Our Members Area for $7.00. Seven Bucks!
Because I was willing to take chances, My Life Now Looks Like This.