Wow! That's what I say every time I see one of these spectacular trees.
Waterfall Japanese maple, also known as Acer palmatum dissectum 'Waterfall' is a spectacular specimen plant for any yard.
Being a weeping Japanese maple 'Waterfall' does not grow tall, most that I see are less than 48″ tall but quite wide.
The one in this photo is in my sister and brother-in-law's front yard.  When they built the house I helped them design the sidewalk layout just so we'd have the ideal place for a beauty like this.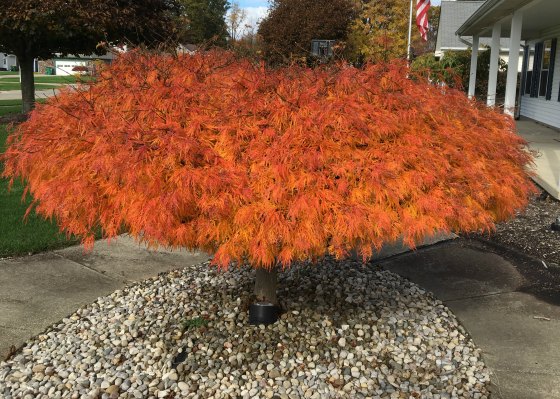 Rooting Cuttings of Japanese Maples
I get asked about propagating Japanese maples from cuttings a lot and the short answer is;  it doesn't work well at all.  Sometimes they root but often fail later.
They simply don't do well on their own roots.  The accepted method of propagating named variety Japanese maples is to graft them onto seedling Japanese maples.
Yes, Japanese maples can be grown from seed, but when grown from seed you usually get a basic Japanese maple seedling that is not true to the parent plant. You can learn all about Growing Japanese Maples from Seed here.
Once you have a seedling or seedlings that you can graft onto, you can tackle the process of grafting. Grafting is not difficult and it's a great deal of fun. There are a lot of variables that you have to get right in order for your grafting efforts to be successful and I share those with you here.
This 'Water Fall Japanese maple used to be in front of our porch. It was getting too big for the area so we had it moved. At the time I did a post about "Transplanting a Large Japanese Maple".
'Water Fall Japanese maples have bright green leaves during the growing season that turn beautiful orange in the fall. See this photo.
And they are as tough as nails, mine often looks like this during the winter.
There are over 1,000 different varieties of Japanese maples so if you can't find 'Water Fall' but can find 'Virdis' by all means get the 'Virdis' they are almost identical. I certainly cannot tell them apart.
Where to Buy Beautiful Japanese Maples Like this.
Make no mistake about it, Japanese maples are expensive and often difficult to find the varieties that you want.  Earlier this year I posted a photo of a 'Purple Ghost' Japanese maple that I have Growing at My Nursery and everybody wanted one.
At the time mine were in the ground and couldn't be dug.  I'll dig them in the spring of 2018, but I only have a few and I probably will only sell one or two of those.
But . . . I know where you can find rare and unusual Japanese maples like this, and get this, they often sell for $10 to $15 each.
You read that correctly, $10.00 to $15.00 each!
Where is this place? Our Members Area!
Our Members Area is Private and we only invite new members a few times a year.  How much does it cost?  It's a bit pricey, but you can do a 30-day test drive for only $7.00.
That way you can decide whether or not you want to stay.  (Of course, that price is subject to change, you might be reading this 20 years from the day that I posted this!)
It's not for everybody, but those who love it, really love it!
But here's the deal, on a daily basis the members buy and sell plants to and from one another 365 days a year.  They buy plants, cuttings, you name it.
Many times throughout the year we have several members that offer rare and unique Japanese maples, and when they do, they are priced so low that they fly out the door!
Seriously. You can get them, but you have to there the day they are posted.
Anyway, I hope you enjoy these photos as much as I like taking and sharing them.
Questions, comments, mean things to say? Post them below and I'll respond.