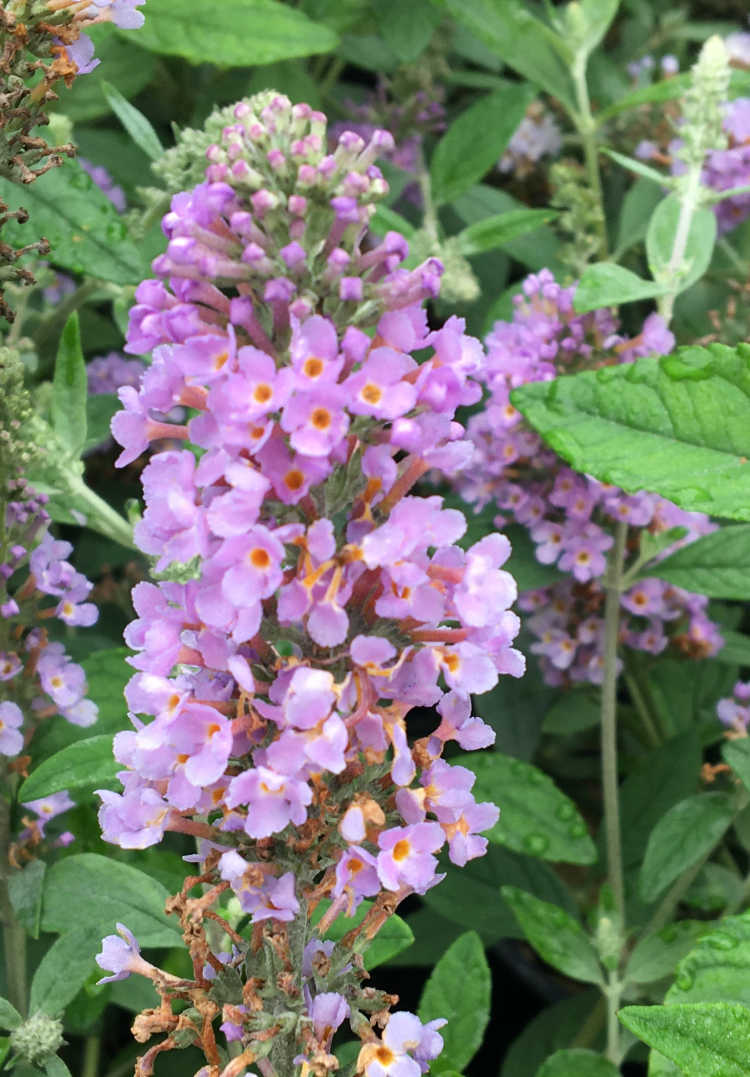 This beautiful plant has a rounded, compact habit with flower spikes that can be as long as 12″. Just spectacular! Lavender Cupcake Buddleia is a great addition to any garden because it attracts butterflies like crazy, it's an amazing pollinator, and hummingbirds love it as well.
This plant grows to a size of about 3′ 6″ high and wide and it responds well to pruning and should be cut back in the fall so it grows nice and full the following growing season.
Lavender Cupcake Butterfly bush is hardy in zones 5 through 10 and loves full sun, maybe a little bit of shade.
Butterfly bushes can easily be propagated By Softwood Cuttings in the late Spring and Early Summer, however, Lavender Cupcake is a patented plant, it is part of the HUMDINGER® Collection.
Buddleia 'Lavender Cupcake' PP28221
HUMDINGER® Collection
That means that is is against the law for you and I to propagate this plant while it is still under patent, and the trademarked name will still be protected even after the patent expires. Learn all about plant patents and trademarks here.
But, just because it's patented doesn't mean that we can't grow and sell this amazing plant. I grow and sell hundreds of them every year!
This is how that works.
I buy small plants from wholesale grower who is licensed to grow and sell patented plants. At the time of the purchase they usually charge me around $2.00 for each plant and then I have to also pay a small royalty on each plant. I think it's around 25 cents but it varies from plant to plant. I also buy color picture tags from the same grower, that way the plant patent info, plant patent number and registered trademark info go along with every plant that I sell.
Can You Buy Plants at these crazy low prices?
Yes you can. In Our Exclusive Members Area
not only can you buy beautiful plants like these at super low prices, but you can also learn about all of the amazing wholesale sources that me and all our members buy from around the country. When you are buying from one of our members they allow you to buy in really small quantities so you don't have to buy a full tray of one plant. From our members you can often buy as few as 3 or 5 of many items.
How can our members offer plants like this that are patented. It's simple. They simply buy them wholesale, several trays at a time, then they offer them to other members at really great prices. Of course they have to mark them up a bit from the wholesale prices, but the wholesale prices are so crazy low you still get a great deal.
You won't even believe how low the price of plants is in Our Members Area.
Why are some plants patented? Because plant breeders work really hard at bringing new and beautiful plants to market and the royalties that they collect for that 20 year period while the plant is under patent compensates them for time, effort and expense of doing all of this plant research and experimentation.
There are a lot of Butterfly Bush that are in the public domain and you and I are free to propagate those. It's up to us whether or not we want to grow and sell something like Lavender Cupcake or Prince Charming. I grow and sell them because I think they are ideal plants and my customers deserve to have them in their yards.
Questions, comments, mean things to say? Post them below and I will respond.
Until then, by any and all means stay inspired!