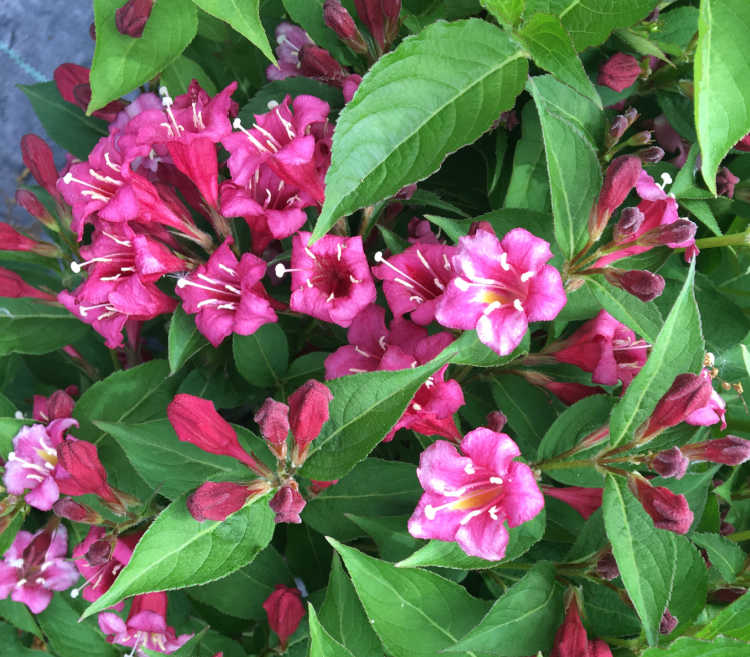 Red Prince Weigela is one of the best selling plants that I grow. I guess it's the striking red flowers that attract attention that make it such a great seller.
Red Prince grows well in zones 4 through 8.
Red Prince loves full sun but it will also tolerate some shade.
Rich green leaves really make the pink to red flowers really stand out. Some of these blooms look pink, but in natural light they really are more red than anything.
Red Prince Weigela is super easy to propagate. It's a fast grower but also very easy to maintain at just about any size you want them to be. If you wan them to grow to a height of 60″ that's no problem. I you want to keep them as a rounded shrub only 30″ tall they work perfect for that as well.
They Root easily as Softwood Cuttings in the Summer and just as easily as Hardwood Cuttings in the Fall, Winter and Early Spring.
Red Prince Weigela is a great pollinator and the horn shaped flowers attract Humming Birds and Butterflies like crazy.
Deer Resistant? I honestly don't know, but I can assure you they are deer resilient. If they deer do munch on them, unlike an evergreen, they will bounce right back.
Questions, comments, mean things to say? Post them below and I will respond. Until then, by any and all means stay inspired!