April is a busy time of the year for gardeners.
Lots and lots to do!
Early spring is the ideal time to divide ornamental grasses just before, or just as they are starting to grow.  A few years ago I made a movie about that process, you can watch that here.
Early spring is also the ideal time to divide hostas.  Just dig out the clump just at the eyes start to show, before the leaves unfurl and divide into two or three clump eyes.
Same for most perennials, they can often be torn into pretty small pieces, replanted and take off growing like crazy.
Early spring is a great time to transplant any trees that need it and late in the fall I Wrote this Article about that Process.
Keep in mind that transplanting season starts around Thanksgiving and ends in the very early spring as soon as plants make leaves.  Once plants leaf out you can no longer dig them.  You can plant all summer long, if you have plants that you purchased in a container or balled in burlap.  There is little to no root damage when sliding a plant out of a container and planting it.  But digging a plant does severe root damage and will shock and could kill the plants.
It's okay to cut into my skull as long as I'm out cold!
Transplanting trees and shrubs is like doing surgery on a human being.  If we are under anesthesia and knocked out cold doctors can cut our bones, grind the end of our bones, cut into our skulls and do all kinds of crazy things to us, but if they were to try that when we were awake we most certainly would go into shock and likely die.  Same with plants.  Cut those roots only when they are sleeping!
Lawn Fertilization and Lawn Weed Control.
I fired my lawn care company.  Actually I fired them all over a period of years.  I'm not crazy about fertilizing my own lawn because for whatever reason pushing that spreader across the lawn murders my back.  Many things murder my back, but for some reason that seems to be worse and once you start across the lawn you really don't want to stop.  I end up with serious back spasms.
Okay, lame excuse at best.
But for a number of years I just opted to pay a lawn care company to take care weeds and fertilizing my lawn.  But working with those companies was a very unpleasant experience because they did a terrible job, the lawn did not look good and it was always full of weeds.  Much to my dismay we water the lawn in the summer just to keep it alive.  It should have looked fantastic.
So I fired them all and but they keep calling.  Finally I told one of the guys on the phone that kept bugging this . . .
The one thing that you have going for you is that you all suck!
So you're as good as the rest, please don't call me anymore.
Normally I'm not like that, but if you call me at 8:30 in the evening trying to sell me something, I'm probably not going to be very nice to you.  But my point in tell you that is to tell you this . . .
I'm doing the lawn myself and it looks fantastic!
Honestly I don't understand it.  It's not that I am talented or any kind of a lawn fertilization expert.  All I did was go to a big box store and buy three bags of Scott's Turf Builder and spread them on the lawn.
First application contains fertilizer, broad-leaf weed control and a pre-emergent for crabgrass so that has to go down early before the soil temperatures get above 45 degrees F.
Second and third applications are fertilizer and broad-leaf weed control.  I put the second one in May then don't apply the third application until September when it cools down and we get some rain.
That's it!  That's all I did and my lawn looked great all year.
It was a lot cheaper than paying a lawn care company and both Pam and I are much happier with the lawn.  It looked great going into the winter and it looks great now in early spring and I haven't made that first application yet.
Mark your calendar, to check your lawn for grubs!
Last fall I noticed that Japanese beetle grubs we devouring the roots of my grass so I applied a lawn insecticide but I was late getting to it so I'm going to apply it earlier this year.  I took the time to write an article with lots of gross photos for you.  When I did that article last fall some guy got all huffy with me because I didn't do the article in August.  I had to explain to him that I actually have a life and a couple of businesses to run, 20 or 30 thousand plants to care for and Two Donkeys to Keep Fed.  But anyway, this year the article is ready.
Mark your Calendar for Grub Control in late July or early August.
That's the best time to apply grub control because the grubs are closest to the surface at that time of the year.  The Japanese beetles lay eggs in the grass, the eggs hatch, then grubs going to work destroying the roots of your grass before they burrow deep into the soil.
23 Landscaping Ideas!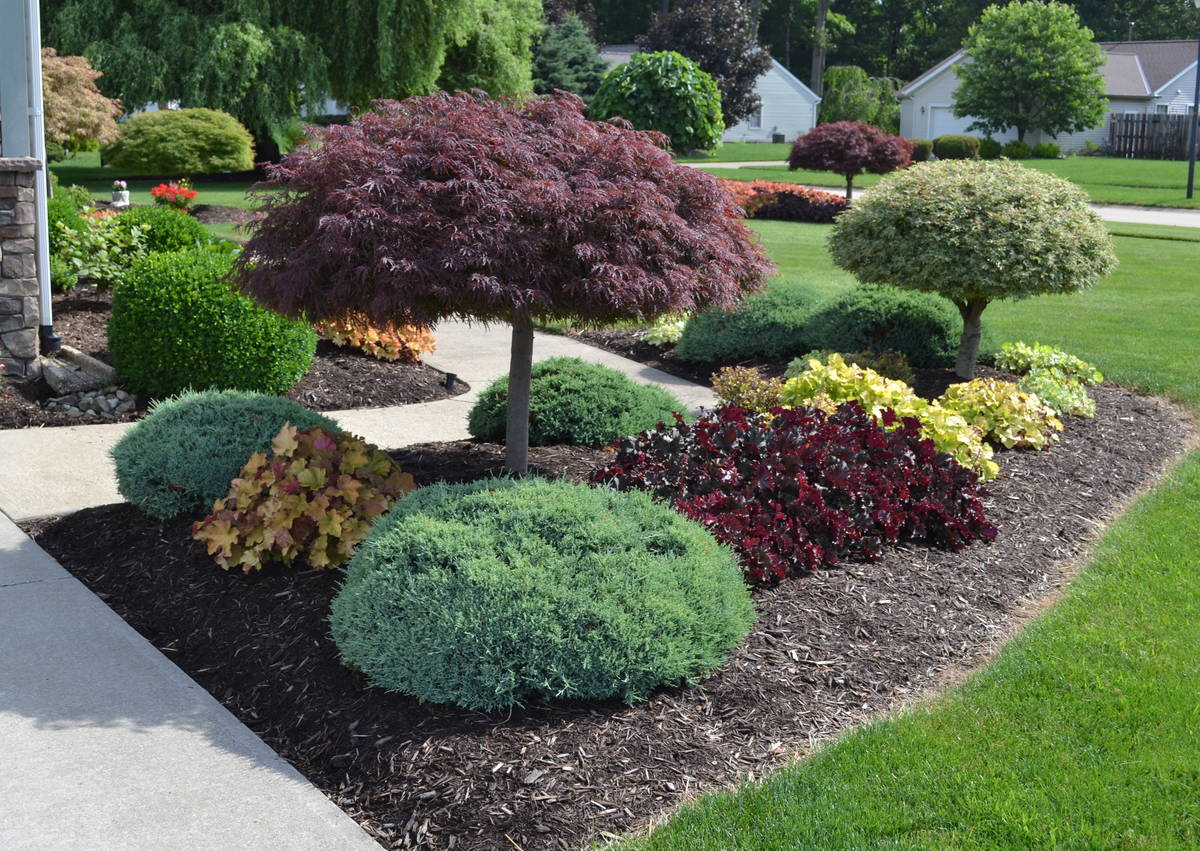 Awhile back I did this post, 23 Landscaping Ideas, that has been pretty popular.  Might give you a few ideas that you can use at your house.  Spring is a great time to tackle landscaping or re-landscaping projects.
How to Edge Your Beds.
This seems a little crazy to me, but people are always asking me; "Mike, how do you get that edge on your beds so neat?"  So I did a video!  But I also remember doing a video about edging with the donkeys helping but I can't find that one, so if you happen to know where on youtube we hid that video, post the link in a comment below and I'll send you a free gardening tool.  It was a video of me demonstrating edge a curved bed but the donkeys wouldn't leave me alone and had their noses in the dirt.
Anyway, this movie is about edging beds.
Okay, that's enough to keep you busy for a while.  Questions or comments, post them below.
Also the donkeys need your support in their bid for the White House, be sure to share their page.